Adult cataract
Lens opacity
Age-related cataract
Vision loss - cataract
A cataract is a clouding of the lens of the eye.
Video Transcript
Cataracts - Animation
Many of us take for granted that, when we open our eyes each morning, we'll have a pretty clear view of the world. But as we get older, we often have trouble seeing as well as we used to. By the time you're 75, there's a pretty good chance you'll develop cataracts. Having cataracts is kind of like seeing through a blurry, hazy cloud. Let's talk today about cataracts. Normally the lens of your eye is clear. It works much like the lens on a camera. When light hits the lens, it focuses an image on the back of your eye. Until a person is around age 45, the shape of the lens is able to change. This allows the lens to focus on an object, whether it is close or far away. As we age, proteins in the lens begin to break down and the lens then becomes cloudy. A cataract is like having a cloud pass over your lens. Only, that cloud never moves on. Cataracts are common after the age of 60. But some people are more likely than others to get them than others; including those with diabetes, and people who smoke or who had surgery for another eye problem. You're also more likely to get cataracts if you don't wear sunglasses outside and your eyes are exposed to a lot of damaging ultraviolet light from the sun. People with a family history of cataracts are also at greater risk. And, sometimes, doctors can't even find any cause for them. When you have a cataract, the world looks blurry or fuzzy. You have trouble making out shapes, and colors aren't as rich as usual. You may not notice much of a change in your vision at first. For minor vision loss, you can compensate by changing your eyeglass prescription and using brighter lights to read or work. But eventually, the cataract will block more and more of your sight. And then you'll need surgery to have it removed and replaced your lens with a nice new artificial one. Often cataract surgery can restore 20/20 vision, especially in people who don't have other eye diseases. You may be able to live with your cataracts; at least, for a while. Even if your vision isn't bothering you however, keep in touch with your eye doctor. Letting a cataract go for too long can lead to other problems, including a certain type of glaucoma. If you can't see as well as you used to, get an eye exam. To protect your eyes, treat diseases like diabetes, which can cause cataracts. And always wear a good pair of sunglasses outside to shield your eyes from the ultraviolet damage from the sun.
The lens of the eye is normally clear. It acts like the lens on a camera, focusing light as it passes to the back of the eye.
Until a person is around age 45, the shape of the lens is able to change. This allows the lens to focus on an object, whether it is close or far away.
As a person ages, proteins in the lens begin to break down. This makes the lens less flexible so that it is harder to focus on near objects. Over time, the lens becomes cloudy. What the eye sees may appear blurry at all distances. This condition is known as a cataract.
Factors that may speed cataract formation are:
Diabetes

Diabetes

Diabetes is a long-term (chronic) disease in which the body cannot regulate the amount of sugar in the blood.

Read Article Now Book Mark Article

Eye inflammation
Eye injury
Family history of cataracts
Long-term use of corticosteroids (taken by mouth) or certain other medicines
Radiation exposure
Smoking
Surgery for another eye problem
Too much exposure to ultraviolet light (sunlight)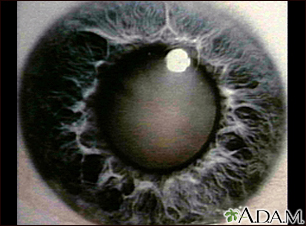 Cataract - close-up of the eye
This photograph shows a cloudy white lens (cataract) as seen through the pupil. Cataracts are a leading cause of decreased vision in older adults, but children may have congenital cataracts. With surgery, the cataract can be removed, a new lens implanted, and the person can usually return home the same day.
Video Transcript
Cataract - Animation
Cataracts may develop with advancing age or in response to diseases such as diabetes. A cataract appears as a cloudy area in the lens.
Cataracts develop slowly and painlessly. Vision in the affected eye slowly gets worse.
Mild clouding of the lens often occurs after age 60. But it may not cause any vision problems.
By age 75, most people have cataracts that affect their vision.
Problems with seeing may include:
Being sensitive to glare
Cloudy, fuzzy, foggy, or filmy vision
Difficulty seeing at night or in dim light
Double vision
Loss of color intensity
Problems seeing shapes against a background or the difference between shades of colors
Seeing halos around lights
Frequent changes in eyeglass prescriptions
Cataracts lead to decreased vision, even in daylight. Most people with cataracts have similar changes in both eyes, though one eye may be worse than the other. Often there are only mild vision changes.
A standard eye exam and slit-lamp examination are used to diagnose cataracts. Other tests are rarely needed, except to rule out other causes of poor vision.
Standard eye exam
A standard eye exam is a series of tests done to check your vision and the health of your eyes.

Read Article Now
Book Mark Article
Slit-lamp examination
The slit-lamp examination looks at structures that are at the front of the eye.

Read Article Now
Book Mark Article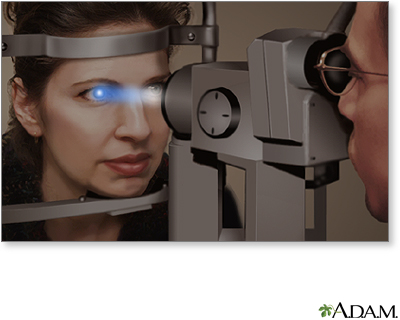 Slit-lamp exam
A slit-lamp, which is a specialized magnifying microscope, is used to examine the structures of the eye (including the cornea, iris, vitreous, and retina). The slit-lamp is used to examine, treat (with a laser), and photograph (with a camera) the eye.
For early cataract, the eye doctor (ophthalmologist) may recommend the following:
Change in eyeglass prescription
Better lighting
Magnifying lenses
Sunglasses
As vision gets worse, you may need to make changes around the home to avoid falls and injuries.
The only treatment for a cataract is surgery to remove it. If a cataract is not making it hard for you to see, surgery is usually not needed. Cataracts usually do not harm the eye, so you can have surgery when you and your eye doctor decide it is right for you. Surgery is usually recommended when you can't do normal activities such as driving, reading, or looking at computer or video screens, even with glasses.
Surgery
Cataract removal is surgery to remove a clouded lens (cataract) from the eye. Cataracts are removed to help you see better. The procedure almost al...

Read Article Now
Book Mark Article
Some people may have other eye problems, such as diabetic retinopathy, that can't be treated without first having cataract surgery.
Diabetic retinopathy
Diabetes can harm the eyes. It can damage the small blood vessels in the retina, the back part of your eye. This condition is called diabetic retin...

Read Article Now
Book Mark Article
Vision may not improve to 20/20 after cataract surgery if other eye diseases, such as macular degeneration, are present. The eye doctor can often determine this in advance.
Macular degeneration
Macular degeneration is an eye disorder that slowly destroys sharp, central vision. This makes it difficult to see fine details and read. The diseas...

Read Article Now
Book Mark Article
Early diagnosis and properly timed treatment are key to preventing permanent vision problems.
Although rare, a cataract that goes on to an advanced stage (called a hypermature cataract) can begin to leak into other parts of the eye. This may cause a painful form of glaucoma and inflammation inside the eye.
Glaucoma
Glaucoma is a group of eye conditions that can damage the optic nerve. This nerve sends the images you see to your brain. Most often, optic nerve da...

Read Article Now
Book Mark Article
When to Contact a Medical Professional
Contact your eye care professional for an appointment if you have:
Decreased night vision
Problems with glare
Vision loss
The best prevention involves controlling diseases that increase the risk for a cataract. Avoiding exposure to things that promote cataract formation can also help. For example, if you smoke, now is the time to quit. Also, when outdoors, wear sunglasses to protect your eyes from harmful UV rays.
Reviewed By
Franklin W. Lusby, MD, Ophthalmologist, Lusby Vision Institute, La Jolla, CA. Also reviewed by David Zieve, MD, MHA, Medical Director, Brenda Conaway, Editorial Director, and the A.D.A.M. Editorial team.
American Academy of Ophthalmology website. Preferred Practice Patterns Cataract and Anterior Segment Panel, Hoskins Center for Quality Eye Care. Cataract in the adult eye PPP - 2021. www.aao.org/preferred-practice-pattern/cataract-in-adult-eye-ppp-2021-in-press. Updated November 2021. Accessed December 1, 2021.
Cataract /Anterior Segment Summary Benchmark – 2020, AAO PPP Cataract and Anterior Segment Panel, Hoskins Center for Quality Eye Care.www.aao.org/summary-benchmark-detail/cataract-anterior-segment-summary-benchmark-2020. Updated December 2021. Accessed January 20, 2022.
Wevill M. Epidemiology, pathophysiology, causes, morphology, and visual effects of cataract. In: Yanoff M, Duker JS, eds. Ophthalmology. 5th ed. Philadelphia, PA: Elsevier; 2019:chap 5.3.
Disclaimer
The information provided herein should not be used during any medical emergency or for the diagnosis or treatment of any medical condition. A licensed medical professional should be consulted for diagnosis and treatment of any and all medical conditions. Links to other sites are provided for information only -- they do not constitute endorsements of those other sites. © 1997- A.D.A.M., a business unit of Ebix, Inc. Any duplication or distribution of the information contained herein is strictly prohibited.