Mitral valve regurgitation
Mitral valve regurgitation
Mitral valve insufficiency
Heart mitral regurgitation
Valvular mitral regurgitation
Mitral regurgitation is a disorder in which the mitral valve on the left side of the heart does not close properly.
Regurgitation means leaking from a valve that does not close all the way.
Video Transcript
Valvular heart disease (VHD) overview - Animation
General overview of heart valve disorders, including types, basics about how valves work, causes and treatments.
Mitral regurgitation is a common type of heart valve disorder.
Blood that flows between different chambers of your heart must flow through a valve. The valve between the 2 chambers on the left side of your heart is called the mitral valve.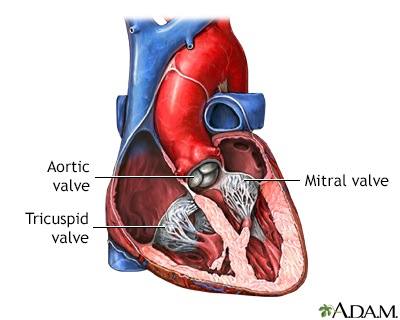 Heart valve surgery - Series
There are four valves in the heart aortic valve, mitral valve, tricuspid valve, and pulmonary valve. The valves are designed to control the direction of blood flow through the heart. The opening and closing of the heart valves produce the heart-beat sounds.
When the mitral valve doesn't close all the way, blood flows backward into the upper heart chamber (atrium) from the lower chamber as it contracts. This cuts down on the amount of blood that flows to the rest of the body. As a result, the heart may try to pump harder. This may lead to congestive heart failure.
Mitral regurgitation may begin suddenly. This often occurs after a heart attack. When the regurgitation does not go away, it becomes long-term (chronic).
Many other diseases or problems can weaken or damage the valve or the heart tissue around the valve. You are at risk for mitral valve regurgitation if you have:
Coronary heart disease and high blood pressure
Infection of the heart valves
Mitral valve prolapse (MVP)

Mitral valve prolapse

Mitral valve prolapse is a heart problem involving the mitral valve, which separates the upper and lower chambers of the left side of the heart. In ...

Read Article Now Book Mark Article

Rare conditions, such as untreated syphilis or Marfan syndrome

Marfan syndrome

Marfan syndrome is a disorder of connective tissue. This is the tissue that strengthens the body's structures. Disorders of connective tissue affect...

Read Article Now Book Mark Article

Rheumatic heart disease. This is a complication of untreated strep throat that is becoming less common.
Swelling of the left lower heart chamber
Another important risk factor for mitral regurgitation is past use of a diet pill called "Fen-Phen" (fenfluramine and phentermine) or dexfenfluramine. The drug was removed from the market by the U.S. Food and Drug Administration (FDA) in 1997 because of safety concerns.
Symptoms may begin suddenly if:
A heart attack damages the muscles around the mitral valve.
The cords that attach the muscle to the valve break.
An infection of the valve destroys part of the valve.
There are often no symptoms. When symptoms occur, they often develop gradually, and may include:
Cough
Fatigue, exhaustion, and lightheadedness
Rapid breathing
Sensation of feeling the heart beat (palpitations) or a rapid heartbeat

Palpitations

Palpitations are feelings or sensations that your heart is pounding or racing. They can be felt in your chest, throat, or neck. You may:Have an unpl...

Read Article Now Book Mark Article

Shortness of breath that increases with activity and when lying down
Waking up an hour or so after falling asleep because of trouble breathing
Urination, excessive at night

Urination, excessive at night

Normally, the amount of urine your body produces decreases at night. This allows most people to sleep 6 to 8 hours without having to urinate. Some p...

Read Article Now Book Mark Article
When listening to your heart and lungs, the health care provider may detect:
A thrill (vibration) over the heart when feeling the chest area

Feeling the chest area

Palpation is a method of feeling with the fingers or hands during a physical examination. The health care provider touches and feels your body to ex...

Read Article Now Book Mark Article

An extra heart sound (S4 gallop)
A distinctive heart murmur
Crackles in the lungs (if fluid backs up into the lungs)
The physical exam may also reveal:
Ankle and leg swelling
Enlarged liver

Enlarged liver

Enlarged liver refers to swelling of the liver beyond its normal size. Hepatomegaly is another word to describe this problem. If both the liver and ...

Read Article Now Book Mark Article

Bulging neck veins
Other signs of right-sided heart failure
The following tests may be done to look at the heart valve structure and function:
Cardiac catheterization may be done if heart function becomes worse.
Treatment will depend on what symptoms you have, what condition caused the mitral valve regurgitation, how well the heart is working, and if the heart has become enlarged.
People with high blood pressure or a weakened heart muscle may be given medicines to reduce the strain on the heart and ease symptoms.
The following drugs may be prescribed when mitral regurgitation symptoms get worse:
Beta-blockers, ACE inhibitors, or calcium channel blockers
Blood thinners (anticoagulants) to help prevent blood clots in people with atrial fibrillation
Drugs that help control uneven or abnormal heartbeats
Water pills (diuretics) to remove excess fluid in the lungs
A low-sodium diet may be helpful. You may need to limit your activity if symptoms develop.
Once the diagnosis is made, you should visit your provider regularly to track your symptoms and heart function.
You may need surgery to repair or replace the valve if:
Surgery to repair or replace the valve
Mitral valve surgery is surgery to either repair or replace the mitral valve in your heart. Blood flows from the lungs and enters a pumping chamber o...
Read Article Now
Book Mark Article
Heart function is poor
The heart becomes enlarged (dilated)
Symptoms get worse
The outcome varies. Most of the time the condition is mild, so no therapy or restriction is needed. Symptoms can most often be controlled with medicine.
Problems that may develop include:
Abnormal heart rhythms, including atrial fibrillation and possibly more serious, or even life-threatening abnormal rhythms

Abnormal heart rhythms

An arrhythmia is a disorder of the heart rate (pulse) or heart rhythm. The heart can beat too fast (tachycardia), too slow (bradycardia), or irregul...

Read Article Now Book Mark Article

Clots that may travel to other areas of the body, such as the lungs or brain
Infection of the heart valve
Heart failure

Heart failure

Heart failure is a condition in which the heart is no longer able to pump oxygen-rich blood to the rest of the body efficiently. This causes symptom...

Read Article Now Book Mark Article
When to Contact a Medical Professional
Contact your provider if symptoms get worse or do not improve with treatment.
Also contact your provider if you are being treated for this condition and develop signs of infection, which include:
Chills
Fever
General ill feeling
Headache
Muscle aches
People with abnormal or damaged heart valves are at risk for an infection called endocarditis. Anything that causes bacteria to get into your bloodstream can lead to this infection. Steps to avoid this problem include:
Avoid unclean injections.
Treat strep infections quickly to prevent rheumatic fever.

Rheumatic fever

Rheumatic fever is a disease that may develop after an infection with group A streptococcus bacteria (such as strep throat or scarlet fever). It can...

Read Article Now Book Mark Article

Always tell your provider and dentist if you have a history of heart valve disease or congenital heart disease before treatment. Some people may need antibiotics before dental procedures or surgery.
Reviewed By
Michael A. Chen, MD, PhD, Associate Professor of Medicine, Division of Cardiology, Harborview Medical Center, University of Washington Medical School, Seattle, WA. Also reviewed by David Zieve, MD, MHA, Medical Director, Brenda Conaway, Editorial Director, and the A.D.A.M. Editorial team.
Carabello BA. Valvular heart disease. In: Goldman L, Schafer AI, eds. Goldman-Cecil Medicine. 26th ed. Philadelphia, PA: Elsevier; 2020:chap 66.
Hahn RT, Bonow RO. Mitral regurgitation. In: Libby P, Bonow RO, Mann DL, Tomaselli GF, Bhatt DL, Solomon SD, eds. Braunwald's Heart Disease: A Textbook of Cardiovascular Medicine. 12th ed. Philadelphia, PA: Elsevier; 2022:chap 76.
Writing Committee Members, Otto CM, Nishimura RA, Bonow RO, et al. 2020 ACC/AHA guideline for the management of patients with valvular heart disease: A report of the American College of Cardiology/American Heart Association Joint Committee on Clinical Practice Guidelines. J Thorac Cardiovasc Surg. 2021;162(2):e183-e353. PMID: 33972115 pubmed.ncbi.nlm.nih.gov/33972115/.
Disclaimer
The information provided herein should not be used during any medical emergency or for the diagnosis or treatment of any medical condition. A licensed medical professional should be consulted for diagnosis and treatment of any and all medical conditions. Links to other sites are provided for information only -- they do not constitute endorsements of those other sites. © 1997- A.D.A.M., a business unit of Ebix, Inc. Any duplication or distribution of the information contained herein is strictly prohibited.